The Parable of the Twins
I came across this parable at the time my daughter was about to give birth to her first son and was enchanted by it. I had studied "The Republic" by Plato at Armidale Teachers' College, and had learnt about a similar metaphor, that of The Cave, included in The Republic. Plato describes slaves imprisoned in a cave who are ignorant of the real world outside their prison.  "The Parable of the Twins" expresses a similar idea of dislocation and ignorance linked to being expelled from the womb at the time of birth.  My daughter has become avidly interested in the Cave Metaphor, even though she has never read "The Republic" by Plato, nor was ever willing to hear me talk about such things.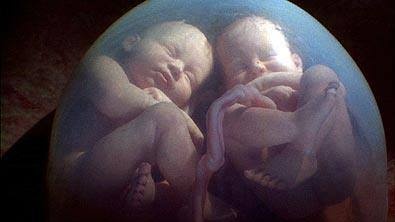 It goes something like this …

Once upon a time, twin boys were conceived in the womb. Seconds, minutes, hours passed as the two embryonic lives developed. The spark of life grew and each tiny brain began to take shape and form. With the development of their brain came feeling, and with feeling, perception—a perception of surroundings, of each other, and their own lives. They discovered that life was good and they laughed and rejoiced in their hearts.
One said to the other, "We are so lucky to have been conceived and to have this wonderful world."
The other chimed in, "Yes, blessed be our mother who gave us life and each other."
Each of the twins continued to grow and soon their arms and fingers, legs and toes began to take shape. They stretched their bodies and churned and turned in their little world. They explored it and found the life cord which gave them life from their mother's blood. They were grateful for this new discovery and sang, "How great is the love of our mother – that she shares all she has with us!"
Weeks passed into months and with the advent of each new month, they noticed a change in each other and in themselves.
"We are changing," one said. "What can it mean?"
"It means", said the other, "that we are drawing near to birth."