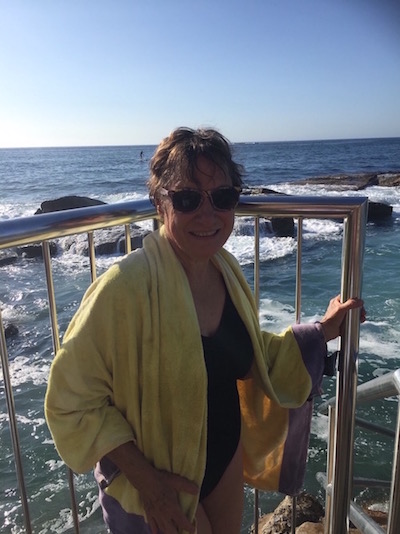 We live at the northern end of the beach in Coogee. This was once the "poor cousin" side of Coogee Bay, with dilapidated buildings and a rusting dome on top of the Coogee Palace. It's now a favorite place to dip and swim for young and old alike. At high tide on these early summer mornings, the smell and taste of salty sea and brine is as invigorating as the fresh feel of the 21 degree waters on the skin. For a long while these baths were privately owned as part of a men's only baths.
We downsized from a house to an apartment in 2011, after our children had grown up and left home. Moving into a smaller space without storage was difficult, but we'd found a flat in walking distance to the sands of Coogee Beach. My husband likes pointing out the little bit of our building that he can see through the trees, when he is in the ocean. He has decided that this will be where he has his ashes scattered—in the sea—after his passing. I find it hard to think forward to the next cup of tea. But I love this place too.
The Gateway to Giles Baths

The arch by which you once entered the original baths building has been retained by the council. On the wall inside this arced structure is a sombre list of the names of Coogee residents who were killed in the Bali Bombings of 2002. Eighty-eight
Australians were killed, out of a total of 200, including twenty from Sydney's Eastern suburbs. Five of them belonged to an amateur rugby league team called "The Dolphins", who were celebrating the end of the footy season.
The young women in the photo at Giles Baths (above) are reading the names of those killed in the Bali Bombings.
Giles is now  unenclosed and open to all today. Surprisingly, there are "women only" baths on the southern side of Coogee Bay, next to the larger "Wylies" public baths.