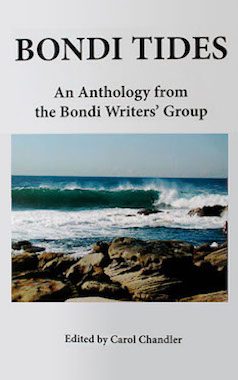 I have been very busy these last few weeks and months, assisting with the organising of the "Bondi Tides" Anthology. We have had to make decisions on the venue; food and drink; readings; invitations; publicity; flyers; the person to launch the book; sale of books; and protocol.
The editor of the anthology, Carol Chandler has had experience with book launches before, and has been instrumental in making final choices. We in the BWG are are all excited about this coming event, which is to be held on St Patrick's Day, 17th March, at the Waverley Library in Bondi Junction. We might even pick up some of the many Irish backpackers who inhabit Bondi Beach. The Mayor of Waverley John Wakefield, has agreed to attend, along with the president of the Fellowship of Australian Writers NSW, Trevar Langlands.
Bondi Writers had long been part of the Fellowship, and sponsored and supported by them, as well as by the Waverley Library.
The Fellowship of Australian Writers was launched in Sydney in 1928 by a group including Mary Gilmore, and has fostered the skills of well-known writers, such as Miles Franklin, down through the years. The Bondi Writers Group was the Eastern suburbs branch of the Fellowship, and was founded in 2004.  Members have had success in competitions, been published in literary magazines and anthologies, and had books published. The NSW Fellowship quarterly bulletin "Writers Voice" contained competitions and information from the branches, of which there are more than twenty in all.
Other Commitments of the last four weeks:  I have nursed my partner after an ankle replacement; assisted my daughter with a newborn baby and toddler; presided over Bondi Writers' Group blog; started adding content to a new website; tried to keep writing creatively; attended an uncle's funeral; and took part in family get-togethers with extended families from places as far afield as Sydney, Darwin, Mullumbimby and the Hunter Valley. Enough excuses for neglecting my blogs …
Related articles