I manage to write more in winter, because there's not the pull of the outside and nature:  swimming, walks in the sun by the sea and all that to tempt me. It's always been a problem for me, the attraction of outside activities versus the obsession to work on my writing. And it's not always easy to find a balance. Now, I love the feeling of being inside, safe and sound, and warm, while watching the rain sleeting down outside the window. That's why I choose a table by the window, if possible, when I work in the Pavilion next door to where I live. It's a question of the early bird gets the worm, of course, as the best locations are popular with other laptop workers, too.
Upstairs is a wine bar, which opens at 12 pm, and is a lovely place to welcome friends for a bite to eat and a drink. The decor is fancy, old-fashioned and includes a "Mad Professor" theme in glass boxes, with natural specimens such as birds' eggs and ancient bones inside to look at. It reminds me of my husband, Mark Onslow, a professor in Speech Pathology, who fits in well there, with his scholarly ways of deeply examining everything in his field of study.
The menu in the wine bar upstairs is Middle Eastern, including small and larger dishes that can be shared and eaten as finger food.
The view from the top is stupendous and worth a visit, if only for that. There are cosy corners where you can get away from the hoi peloi and the noise of the music if you wish to converse with a friend.
The owner's sister created the lovely decor upstairs, often with second hand but gorgeous furniture. Plants add a touch of nature to the aritifice, creating a magical effect.
I am looking foreward, now, to the addition of a fine dining room space on the middle floor. This will relieve some of the pressure of the crowds and the noise, which young people don't seem to mind, but which makes it difficult for a mature person to converse without getting a headache.
But downstairs is ideal for breakfast and an informal or more formal lunch menu. The latter includes fantastic seafood dishes. See some of my favourite places on the ground floor level where the theme is industrial and seaside life.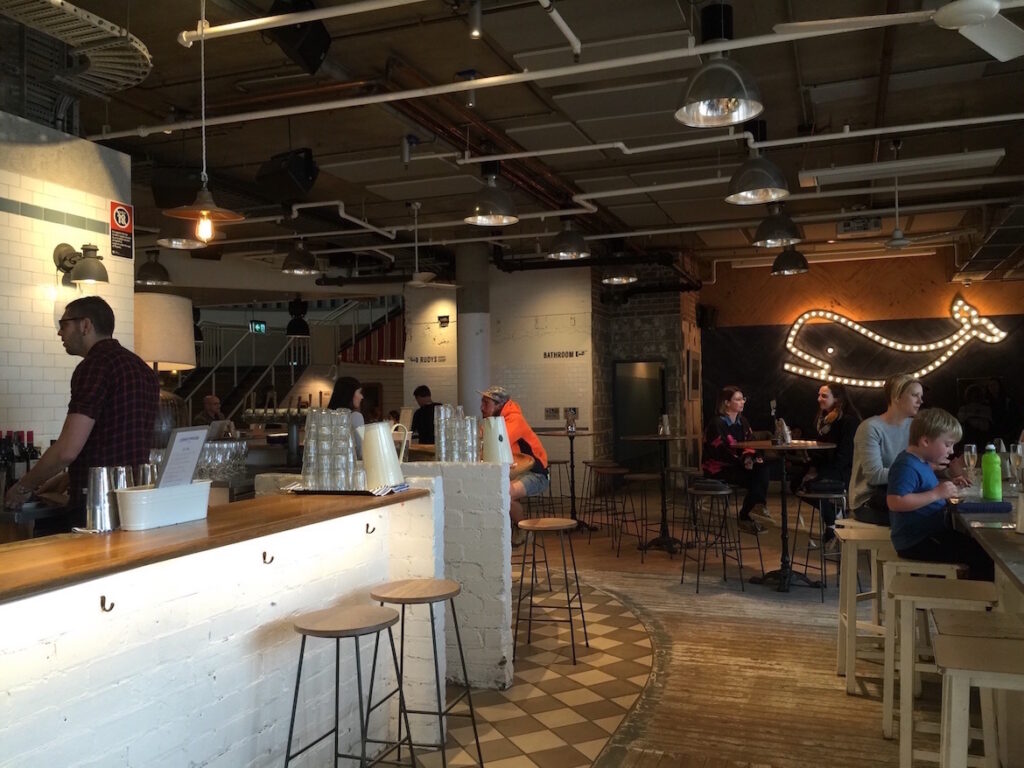 Our local coffee shop/wine bar/restaurant, the Pavilion in Coogee, caters for just about all demographics: trendies (evenings), mothers and babies (mornings), couples, oldies like me, and kids on weekends and during the holidays.
It's the coldest it's been this winter, 2016, with a low of about fourteen degrees in the daytime and the rain and wind factor making it feel worse.
Someone asked me what there is to do in Sydney in winter. See my post on this at Things to Do in Sydney.
Many health food cafes and restaurants are now opening up in Coogee and surrounding suburbs, such as in Bondi.
This is a very positive sign for me, as it means that our environment is changing and responding to peoples' expressed needs and wishes to be healthier. This year, 2017, I have noticed a big push for healthy foods in Sydney restaurants.
Do you have a favourite coffee shop near you? I have several that I like to frequent with friends. This one is the closest to my place.  Tell me about your writing habits. Here's another photo of mine.